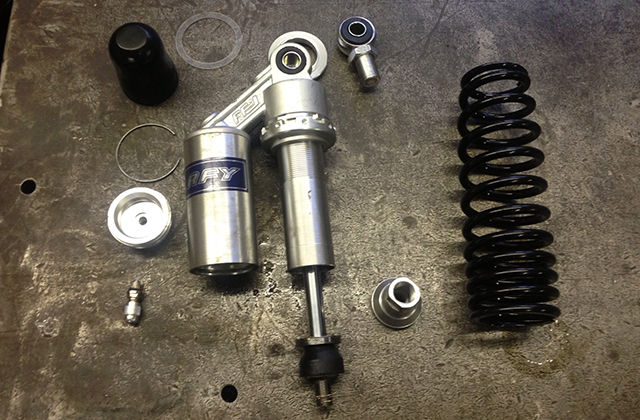 After my recent post reviewing the construction of RFY shocks I have received a fair amount of interest. Specifically, what is the final performance of the RFY package, and what should be done to make sure their budget shocks perform correctly? Ultimately, I am of the opinion that these shocks can provide an effective and well performing package at a very low price point, but this is not without caveats.
As many people previous to me have noted, as the RFY dampers arrive from the factory, they leave a little to be desired. Primarily, factory assembly appears to be inconsistent and performed with little regard the the ultimate performance of the shock. Luckily, these shocks can be disassembled and then reassembled using proper techniques and materials.
These dampers have the potential to perform as well as models that cost twice as much. The materials and engineering are sufficient, the end assembly leaves a bit to be desired. For example, RFY shocks typically have too little shock fluid, incorrect or no gas pressure, and sometimes are assembled incorrectly. This can lead to a bouncy or uncomfortable ride, and even an unpredictable handling bike. My rebuild includes proper Maxima shock fluid of a specified weight as well as proper gas pressurization using pure nitrogen gas. While I am in there, I inspect all parts for flaws, check for proper assembly, and correct any inconstancies that might be encountered. If you have the tooling and know-how to rebuild these, I strongly encourage you to do so. If you do not, then perhaps I can help. Below is an overview of my rebuild as well as what I charge to provide this service should you be interested.
RFY Shocks Rebuild Service Overview
Name brand shock fluid (Maxima) provides known damping properties
Purging air from damper system providing consistent performance throughout suspension travel
Setting gas bladder pressure with purpose built tool means precise control of damping and consistent performance, standard tire gauges do not work for setting this pressure as the bladder volume is too small
Proper pressurization reduces oil cavitation and means consistent damping performance
The use of pure nitrogen eliminates moisture while also offering greater temperature stabilization compared to air
The benefits are many, but the cost is little.
$75 – Total RFY Shock Rebuild (one pair)
This includes: Maxima shock oil (3,7,10 weight), complete inspection and reassembly, and charged with nitrogen. For a small charge, you can also have the top out springs replaced. Additionally, once the shocks have had their initial service, the cost is reduced to only $55 for each reoccurring service.
Just ship your RFY shocks to me, there is a maximum one week turn around after the date of receiving. Expedited return service/shipping available at extra cost.